How to use the Clinical Management Guidelines
Background
Who are the CMGs for?
They were initially created in 2008 when optometrists first gained independent prescribing status. However, as all optometrists make daily decisions regarding the management of eye conditions, they are an important resource for all optometrists. They are also of value to all primary eye care providers including nurses, pharmacists and GPs.
Why were they created?
When independent prescribing was introduced for optometrists in June 2008, the Commission on Human Medicines recommended that suitably qualified optometrists should be able to prescribe any licensed medicine (except for controlled drugs or medicines for parenteral administration) for conditions affecting the eye, and the tissues surrounding the eye within their recognised area of expertise and competence. The Commission for Human Medicines made it clear that the extent of independent prescribing for optometrists would be supported by the guidelines. This was to safeguard patients in settings that were not supported by formal clinical governance structures.
How should they be used?
The CMGs set out the evidence to inform your clinical practice. They are not intended to be used as a recipe book. It is important to recognise and work within your own areas of expertise and confidence when using them.
Evidence based practice, increasingly used in medicine, is a method of making clinical decisions with a view to providing the best possible care for patients. It involves integrating three elements: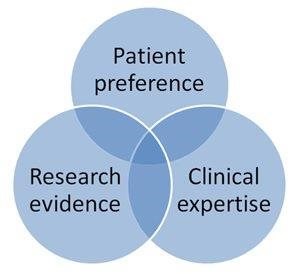 Using evidence based practice does not mean that you should be making decisions based only on published evidence and formal consensus outcomes. Rather, it signifies that you should also take into account the wishes of your patient and the circumstances they are in, as well as your own professional judgement. You should ensure that your patients understand the efficacy of and risks involved in any treatment you propose and carefully weigh up all three elements before making the clinical decision with the patient.
You should audit the outcomes of your decisions, when possible, to ensure that the options chosen continue to be appropriate.
As a published resource the CMGs may be drawn on in the event of a GOC fitness to practise or a civil case, however the ultimate outcome will depend on your professional judgement when using them and ability to justify the clinical decisions that you make based on the three elements above.
CMG format
The format is the same for each CMG:
aetiology
predisposing factors
symptoms
signs
differential diagnosis
management by optometrist

non pharmacological
pharmacological

management category
possible management by ophthalmologist.
They set out the evidence base for the management of the condition.
When making prescribing decisions the guidelines should be read in conjunction with a useful source of information on the selection and use of medicines such as:
Who is involved in producing them?
They were written by a team of optometrists and ophthalmologists and are regularly updated by an optometrist and an ophthalmologist. They were externally peer reviewed when first written and are externally peer reviewed if there are significant changes to a CMG when it is updated.
When the CMGs are updated, they are reviewed by a group of optometrists and ophthalmologists and by the College's Public Patient Reference Group. Both groups feed their comments back to the CMG writers. The CMGs are then reviewed and approved by the College's Education and Standards Committee before being added to the College website.
The CMGs now include a plain language summary.
How are they developed?
The first step is to formulate the search terms. These are identified by formulating a series of clinical questions. For example, questions on therapeutic interventions are always framed in terms of Patient, Intervention, Comparator and Outcome (PICO). Systematic search strategies are then developed for each specific question. Appropriate electronic databases (for example MEDLINE, EMBASE, CINAHL, and the Cochrane Library) are searched using an explicit search strategy and pre-defined inclusion/exclusion criteria. The reference lists of relevant studies are also searched to find additional studies. Other guidelines relevant to the topic area are also identified. The date of the search, publication date and review date are published on the CMG.
Two writers independently assess the titles and abstracts of the studies identified from the electronic searches to select relevant studies and full text copies of relevant studies are obtained.
Management Categories
| | |
| --- | --- |
| A1 | Sight-threatening Conditions - Immediate Referral to Ophthalmologist without Intervention |
| A2 | Sight-threatening Conditions - First Aid Measures and Urgent Referral |
| A3 | Sight-threatening Conditions - Urgent (within 1 week) referral to an ophthalmologist |
| B1 | Conditions not normally Sight-threatening - Possible prescription of Drugs, Routine Referral |
| B2 | Conditions not normally Sight-threatening - Alleviation or Palliation. No Referral |
| B3 | Conditions not normally Sight-threatening - Management to Resolution |
Evaluating, synthesizing and grading of the evidence
Each relevant resource (guideline, systematic review, primary study) is then critically appraised with respect to methodology, significance and applicability of the results independently by two authors against standard appraisal checklists with a third arbiter for cases of disagreement. Appraisal tools, for example AGREE instrument for guidelines and critical appraisal proformas (for example those developed by the Critical Appraisal Skills Programme (CASP)) are available for this purpose.
Once the evidence has been critically appraised it is translated into evidence-based recommendations. The strength of recommendation for an intervention depends on:
the balance between benefits, risks and burdens
the quality if the evidence for the intervention.
Each recommendation is graded using a modification of the grading system developed by the Grading of Recommendations Assessment, Development, and Evaluation (GRADE) Working Group.
The GRADE system incorporates an assessment of the quality of the evidence and the strength of recommendation.
Quality of recommendation
The quality of evidence for each clinical question is determined after considering study design, study quality, consistency, and applicability of the evidence to the target population.
GRADE uses the following definitions of quality of evidence:
High = Further research is very unlikely to change our confidence in the estimate of effect.
Moderate = Further research is likely to have an important impact on our confidence in the estimate of effect and may change the estimate.
Low = Further research is very likely to have an important impact on our confidence in the estimate of effect and is likely to change the estimate.
For recommendations regarding therapeutic interventions, randomised controlled trials (RCT) with low risk of bias provide high quality evidence, observational studies provide low quality evidence and case series or case reports also constitute evidence of low quality. The GRADE system allows for downgrading RCT evidence or upgrading evidence from observational studies based on the following specified criteria:
Factors that downgrade the level of evidence:
limitation to the quality of the study, for example unmasked assessors of subjective outcomes or high loss to follow up
important inconsistency
some uncertainty about directness ('generalisability' to the target population)
imprecision of the estimate
high probability of reporting bias
Factors upgrading the level of evidence:
strong or very strong evidence of association
dose-response effects
all possible confounders would decrease the observed effect
Observational studies can occasionally provide moderate or even high quality evidence, for example situations where the magnitude of a treatment benefit is large and consistent.
Strength of recommendation
The strength of recommendation is classified as strong or weak. When determining the strength of recommendations, consideration is given to the balance between desirable and undesirable effects, the quality of the evidence, and variability of or uncertainty about patient values and preferences.
Where guideline authors are confident that most patients would benefit from a particular management strategy, they will make a strong recommendation. Strong recommendations are usually underpinned by high quality evidence, but there may be situations where strong recommendations are made in the presence of moderate or low quality evidence if the benefits clearly outweigh the risks. However, in situations where there is uncertainty regarding the magnitude of a treatment effect or the risks and benefits are finely balanced, a weak recommendation should be made.
CMG updates
Members can login to see which CMGs we've updated recently, and a summary of the changes we've made.
Sign in to continue
Not already a member of The College?
Start enjoying the benefits of College membership today. Take a look at what the College can offer you and view our membership categories and rates.